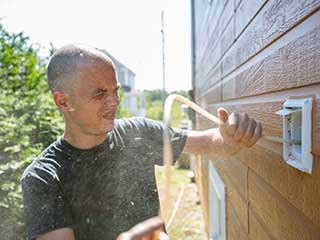 Why Does A Cleaning Matter?
It may not sound like a particularly vital service to have done, but periodic dryer vent cleaning is very important for keeping your home safe as well as lowering those energy costs! Lint and other substances that get stuck in your dryer's vent can cause a lot of issues if they aren't cleared out regularly, and fire is one of the most concerning matters. The high temperatures from drying your clothing can set the lint on fire if left for long enough and cause a lot of damage. The materials clogging the vent also slow down the air flow and make it a struggle for the hot air to get through, which makes your dryer need to run longer to completely dry your clothes. This means higher energy spending over time.
Signals Your Dryer's Vent Needs Cleaning
One of the most noticeable signs that your dryer's vent needs to be cleared out is if your clothes are in fact taking longer to dry than they used to. If you're finding that you have to run the cycle for longer to completely get rid of dampness, you might want to get it checked. This is especially true if you've noticed rising energy costs for no apparent reason. You can also take a look at your vent yourself and see if it looks like it's blocked up with dust and lint.
Trustworthy And Affordable Service
Our professionals have been working in this field for years and will be able to get your vent totally cleaned out before you know it, and thoroughly as well. We use the highest quality equipment available so you can rest assured that it will be a job well done and one that will last.
Why Wait Any Longer?
It's time to contact us at Air Duct Cleaning Vista today to reduce your risk of fire and high energy costs right away!