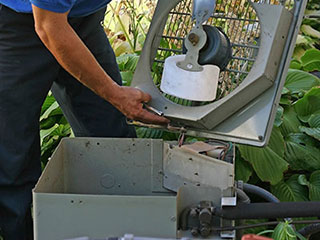 Over time your HVAC unit may require repairs to parts that have worn down from use, and this is especially true if it isn't cleaned regularly. Our company can assist with both issues right away!
Top-Quality Repair Services
Wear and tear are natural over time from years of use, so it's not surprising that your HVAC unit may eventually need repairs done to get it back in working order! If you notice that heating or air conditioning doesn't seem to reach every room in the house, that your unit is making a racket, or isn't working whatsoever, it most likely is in need of repairs. Our experts use the finest parts and equipment available to get it back in great shape again quickly and easily for you!
Professional And Fast Cleaning
One of the best ways to keep your HVAC unit from needing repairs to begin with is with regular cleanings! Your unit will acquire build up of dirt, dust, and other substances from outside when it sucks in air to use for heating and air conditioning, and these clogs put a strain on the whole system. This struggle will cause parts to wear down faster than usual, which causes more frequent problems. Our professionals would be happy to clear out your unit of all blockages with our high-quality tools to get it running far more easily! This can also help lower energy spending by making your unit run more efficiently, as well as helping to improve the quality of your air inside the household. Rather than risk poor health due to polluted air, just let us get it cleaned up before you know it! You'll be glad you did.
There's No Need To Wait
Putting off HVAC unit cleaning or repairs will only cause the problems to worsen over time and may even lead to your unit completely breaking down when you need it! Our team can have it working like a charm again for you in no time. Contact Air Duct Cleaning Vista today!